Women's tennis season ends with loss to Conn. College
---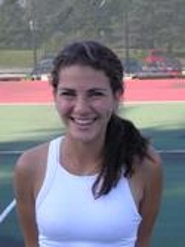 Connecticut College defeated Hamilton College 6-3 in a New England Small College Athletic Conference match at Hamilton's Gray Tennis Courts on April 30.

Deb Barany '11 and Melissa Mann '13 were 8-4 winners at first flight doubles for the Continentals. The duo finished the season with six doubles victories. Barany finished her Hamilton career with 48 singles wins, which puts her in second place on the team's all-time list.

Amelia Mattern '12 captured a 6-2, 6-4 win at sixth singles, and Sara Shaughnessy '14 breezed to a 6-1, 6-2 victory at fifth singles. Shaughnessy won eight matches her rookie season.

Hamilton (5-9 overall, 0-6 NESCAC) has completed the 2010-11 season.