Women's tennis topped in fall season opener
---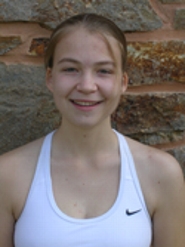 St. Lawrence University won two out of three doubles matches and went on to a 6-3 victory against Hamilton College in a non-conference match at St. Lawrence's Newell Field House on Sept. 18.

It was the first match of the fall for both teams. Hamilton competes in the 2012 ITA Northeast Regional Championship at William Smith College this weekend. The three-day event begins on Saturday, Sept. 22.

Bella Schoning '16 was a winner in her first collegiate match for the Continentals. Schoning prevailed 7-5, 3-6 and 10-8 in the super-tiebreaker at third flight singles.

Rachel Friedman '15 posted a 6-3, 7-5 victory at sixth flight singles. Melissa Mann '13 and Meg Lee '14 teamed up for an 8-6 win at third flight doubles.