Women's track and field athletes compete at ECAC championships
---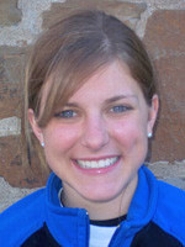 Four Hamilton College athletes competed in the 2010 Eastern College Athletic Conference Division III championships at Smith College in Northampton, Mass., on March 5 and 6.
Liz Wahl '10 finished in ninth place out of 24 runners in the 200-meter dash, recording a personal-best time of 24.46 seconds. Wahl was just .04 seconds away from tying the school record of 26.42 seconds, which is held by Alexandra Americanos '10. Wahl was ranked 20th in the field before the meet.
Muriel Schwinn '13 finished 11th in two events. Schwinn crossed the finish line in 7.46 seconds in the 55-meter dash prelims on Friday, and missed qualifying for the finals. Schwinn tied for 11th place in the long jump with a mark of 5.13 meters (16 feet, 10 inches).

The 800-meter relay of Wahl, Schwinn, Alex Rimmer '13 and Danica Wuelfing '10 ended up in 18th place with a season-best time of 1:50.17.

Schwinn will find out on Monday morning if she has qualified for the NCAA Division III indoor track and field championships. Her season-best mark of 5.54 meters (18-feet-2¼) is currently ranked 16th in the nation. The meet is at DePauw University in Greencastle, Ind., on March 12 and 13.