Women's track and field competes at RIT Invitational
---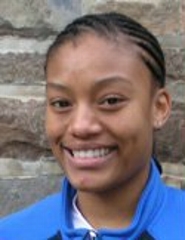 Hamilton College women's indoor track & field athletes recorded six Top-10 performances in the multi-divisional, non-team scoring Rochester Institute of Technology Invitational on Jan. 17.
Akilah Bond '09 was fantastic once again for Hamilton in the jumps. Her triple jump mark of 10.83 meters (35-feet-6½) was good for runner-up in the 24-woman field, and she was sixth in the long jump with a leap of 4.98 meters (16-feet-4¼). She qualified for the Eastern College Athletic Conference Division III championships in the triple jump. Bond holds program records in both events.
Gen Flanders '09 crossed the finish line in fifth place in the 3,000-meter run with a time of 11:08.16. Sarah Caney '09 was 10th in the 1,000 meters at 3:23.65. Caney was sixth among Division III athletes. Lauren Peters-Collaer '11 tied for seventh place in the high jump as she cleared 1.47 meters (4-feet-9¾).
Liz Wahl '10 finished tenth in the 200 meters with a time of 28.86.
Hamilton travels to Canton, N.Y., to compete in the St. Lawrence University Invitational on Saturday, Jan. 24.