Track and field competes in Cornell Relays
---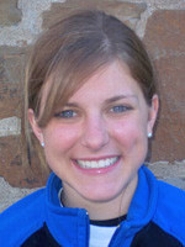 Hamilton College had a few members of its indoor track and field team compete in the multi-divisional, non-team scoring Cornell University Relays at Barton Hall on Dec. 5.
Muriel Schwinn '13 finished 14th in the finals of the 60-meter dash with a time of 8.26 seconds. However, Schwinn's time of 8.25 seconds in the preliminary heats set a team record. The previous record of 8.46 seconds was set by Alexandra Americanos '10 in 2007.

Schwinn also took sixth place in the long jump at 16-feet-10 (5.13m). She topped all other Division III athletes in the event and was one centimeter from qualifying for the Eastern College Athletic Conference Division III championships.
Liz Wahl '10 took 20th place and broke her own program record in the 300 meters with a time of 44.34 seconds. Wahl was fifth among Division III runners. Her previous record time was 44.65 seconds. Glenn Watkins '13 finished in 27th place in the 500-meter dash in 1:26.84, which was the seventh-fastest time by a Division III athlete.
Agne Jakubauskaite '13 took ninth place overall and fourth for Division III athletes in the high jump at 5-feet-1 (1.55m). Jakubauskaite also came in 20th place in the long jump at 15-feet-10¼ (4.83m).

Mark Breazzano '10 competed in the men's 300 meters and finished with a time of 38.98 seconds.
The Continentals are off until the Williams College Invitational on Saturday, Jan. 16, at 11 a.m.