Women's track and field places sixth at state meet
---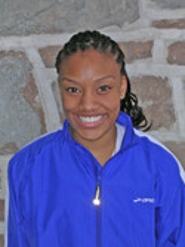 Hamilton College athletes broke two program records and the Continentals finished sixth in the nine-team New York State Collegiate Track Conference indoor track & field championships, which were held at the Rochester Institute of Technology's Gordon Field House on Feb. 27 and 28.
The Continentals wrapped up the two-day meet with 42.5 points. Ithaca College took home the team title with 223.5 points. The top three finishers in each individual event plus the winning relays earn all-conference honors.
Rebecca Yaguda '09 broke the school record in the pole vault on the way to second place. Yaguda cleared 3.25 meters (10-feet-8) and broke the previous record of 3.20 meters, which was set by Jess DeMichiel '08 in 2008. Yaguda qualified for the Eastern College Athletic Conference Division III championships next weekend.
Akilah Bond '09 broke her own school record in the long jump as she finished sixth in the event. Bond's leap of 5.27 meters (17-feet-3½) improved on her previous best of 5.24 meters in 2008, and qualified her for the ECAC Division III meet in the event. Bond finished second in the triple jump with a mark of 11.24 meters (36-feet-10½). She had already made a provisional NCAA championship cut in the event.
Liz Wahl '10 recorded an impressive weekend in the sprints. Wahl captured second place in the 400-meter dash with a time of 60.25 seconds and was sixth in the 200-meter dash in 27.24 seconds. She posted a time of 27.06 seconds in Friday's prelims.
Lauren Peters-Collaer '11 rounded out the top-eight finishes for the Continentals. Peters-Collaer tied for fourth place in the high jump with a height of 1.53 meters (5-feet-¼).
The ECAC Division III championships will be hosted by Tufts University on Friday and Saturday, March 6 and 7.