Women's track & field athlete earns All-America honors
---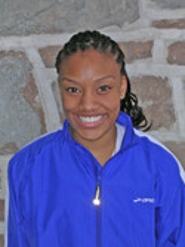 Akilah Bond '09 finished seventh in the triple jump and earned All-America honors at the NCAA Division III men's and women's indoor track and field championships held at Rose-Hulman Institute of Technology's Sports and Recreation Center in Terre Haute, Ind., on March 14.
Bond posted a mark of 11.66 meters (38-feet-3¼) in the first of her six jumps. The athlete in sixth place jumped 11.77 meters (38-feet-7½). In Bond's other five attempts, she recorded jumps of 11.29 and 11.15 meters, and faulted three times. Bond's jump of 11.66 meters in the preliminary heats qualified her for the finals.
Akeye Aimable of Wartburg College finished first in the triple jump at 12.04 meters (39-feet-6). Bond's All-America honor is her second at Hamilton. She also landed in seventh place in the triple jump at the 2007 indoor championships. The top eight finishers make the All-America team.