Women's track & field competes at Rochester Invite
---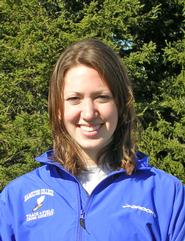 Hamilton College athletes finished one-two in the javelin throw as the Continentals competed in the multi-divisional, non-team scoring University of Rochester Invitational at Roberts Wesleyan University on April 11.
Kate Greenough '09 threw the javelin 30.40 meters (99-feet-9) to win the event. Teammate Laurie Horesta '12 was second at 29.47 meters (96-feet-8).
Hamilton runners had a strong showing in the 5,000-meter run with two athletes in the top three. Gen Flanders '09 was second with a time of 19:15.35 and Abby Jones '09 was just behind at 19:20.35. Both athletes qualified for the New York State Collegiate Track Conference (NYSCTC) championships.
Kristen Selden '09 recorded another second-place finish for Hamilton in the 100-meter hurdles with a time of 16.58 seconds. In the 1,500-meter run, Meredith FitzPatrick '11 crossed the finish line in fifth place at 4:57.06 and Abby King '11 was eighth at 5:06.26. FitzPatrick qualified for the NYSCTC meet. Maddy Gunter '11 was eighth in the 3,000-meter steeplechase with a time of 12:44.08.
Reisa Asimovic '11 was strong in the sprint events. Asimovic took seventh place in the 100- and 200-meter dashes with times of 13.45 and 27.90 seconds, respectively. Akilah Bond '09 was just behind her in the 100 in 13.52 seconds.
Hamilton hosts an invitational at Pritchard Track on Saturday, April 18.