Women's track & field competes in home meet
---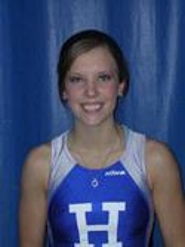 Hamilton College earned six first place finishes in its own multi-divisional, non-team scoring Mid-Week Meet held at Pritchard Track on April 13.
Brooke Rayder '11 claimed two victories. In the 100-meter hurdles, her time of 17.59 seconds was good enough for first place. Her height of 1.41 meters in the high jump also took first. In the 100-meter dash, Muriel Schwinn '13 claimed first place as she crossed the finish line in 12.71 seconds.
Hamilton swept the top four spots in the 800-meter run. Glenn Watkins '12 took first place with a time of 2:25.21, and Emily Heckman '13 finished right behind Watkins in 2:27.36. Laurie Horesta '12 finished first in the javelin throw with a mark of 30.90 meters.
Liz Wahl '10 posted a runner-up finish in the 400-meter dash. Her time of 1:00.37 was just 0.91 seconds off the team record. In the 1,500-meter run, Maddy Gunter '11 claimed second place with a time of 5:03.09.
Wahl, Schwinn, Alex Rimmer '13 and Alexandra Americanos '10 earned a victory in the 400-meter relay. They posted a time of 51.57 seconds.
Hamilton competes in its own Continental Invitational on Saturday, April 17.