Women's track & field competes in state championships
---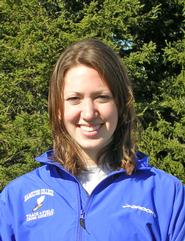 Kristen Selden '09 broke her own school record in the 100-meter hurdles and Hamilton College finished in sixth place at the New York State Collegiate Track Conference championships, which were held at St. Lawrence University on May 1 and 2.
Hamilton finished with 59 team points and Ithaca College won the nine-team meet with 274.5 points. The top three finishers in each event earn all-state honors. A handful of Continentals have qualified to compete in the ECAC Division III championships at Springfield College on May 14 and 15.
Selden set the record in the preliminary heats of the 100-meter hurdles on Friday. Her time of 15.80 seconds smashed her old record of 16.01 seconds, which she set in 2006. Selden went on to post a time of 15.87 in Saturday's finals and finished sixth in the event. Selden's time qualifies her to compete in the ECAC championships.
Liz Wahl '10 racked up a pair of impressive performances in the sprints. Wahl ran the 100-meter dash in 12.63 seconds, which was good for third place and a bid to the ECAC championships. Wahl took fourth place in the 200-meter dash with a time of 26.63 seconds. She recorded a time of 26.12 in the preliminary heats.
Meredith FitzPatrick '11 also qualified for ECACs with a time of 4:46.84 in the 1,500-meter run. FitzPatrick finished in second place ahead of teammate Abby King '11, who finished eighth with a time of 5:00.04.
Emily Potter '12 placed second in the 3,000-meter steeplechase as she crossed the finish line in 12:02.03. Emily Gaudet '12 was behind Potter in sixth place at 12:35.17. Sarah Boak '12 ran the 400-meter hurdles in 69.97 seconds for a fifth place finish.
Lauren Peters-Collaer '11 cleared 1.53 meters (5-feet-0¼) to finish fourth in the high jump and Kate Greenough '09 threw the javelin 29.04 meters (95-feet-3) to finish seventh. Rebecca Yaguda '09 also picked up a seventh-place finish as she cleared 3.05 meters (10-feet-0) in the pole vault.
Abby Jones '09 and Gen Flanders '09 took sixth and seventh place in the 5,000-meter run, respectively. Jones crossed the finish line in 19:12.33 and Flanders' time was 19:21.85. The 3,200-meter relay of FitzPatrick, King, Ally Leighton '10 and Sarah Caney '09 finished fourth with a time of 10:08.82.