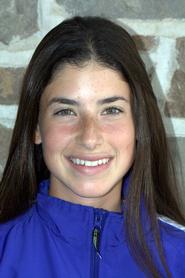 The Hamilton College women's indoor track & field team wrapped up its season at the Eastern College Athletic Conference Division III Indoor Championships on Saturday. The Continentals scored 12 points at the two-day meet, held at New York City's Armory Track and Field Center. Hamilton tied for 28th place among the 60 scoring teams.

Complete results

The Continentals' top performance came in the 3,200-meter relay, where the quartet of Emily Banzer '15, Hanna Jerome '18, Mattie Seamans '18 and Krystina Choinski '15 placed third in 9:42.07.

Lindsay Heyer '17 turned in the highest individual finish for Hamilton, taking fifth in the 5,000-meter run in 18:15.06. Jerome also placed, finishing seventh in the 1,000-meter run with a time of 3:03.34.

Hamilton's distance medley relay was 16th with the team of Choinski, Samantha Buttrick '17, Seamans and Banzer posting a time of 12:47.53.