Women's track & field finishes third at league championships
---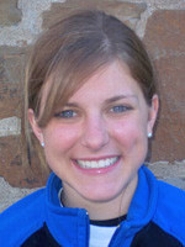 Muriel Schwinn '13 and Liz Wahl '10 finished first in events for Hamilton College, as the Continentals placed third in the four-team Liberty League championships at St. Lawrence University's Newell Field House on Feb. 13.
Schwinn earned a victory in the 55-meter dash with a time of 7.58 seconds in the finals. Wahl took first in the 200-meter dash clocking a time of 26.99 seconds. Wahl claimed second place in the 55 meters with a finals time of 7.64 seconds.
Schwinn took second place in the long jump with a distance of 5.10 meters (16-feet-8¾). She claimed fourth in the 200 meters as she crossed the finish line in 27.69 seconds.
Schwinn and Wahl joined Danica Wuelfing '10 and Alex Rimmer '13 on a winning 800-meter relay that finished with a time of 1:50.41. The time qualifies Hamilton for the Eastern College Athletic Conference Division III championships next month. Wuelfing tied for third in the triple jump with a mark of 10.22 meters (33-feet-6½). Rimmer finished fifth in the triple jump, and was sixth in both the pole vault and high jump.
In the 55-meter hurdles, Brooke Rayder '11 took second place and qualified for the New York State Collegiate Track Conference championships with a finals time of 9.25 seconds. Emily Heckman '13 claimed fourth place in the 800-meter run recording a time of 2:26.91. Heckman qualified for the state championships with the performance.
In the mile run, Maddy Gunter '11 finished fifth with a time of 5:30.16. Glenn Watkins '12 ended up in sixth place in the 400-meter dash in 63.18 seconds. In the 5,000-meter run, Rachel Cackett '13 crossed the finish line in 19:47.85 for fifth place.
Hamilton ended up with 88 team points, and Rensselaer captured the team title with 182. The Continentals next compete on Saturday, Feb. 20 at Cornell University's Denault Invitational.