Women's track & field finishes third at University of Rochester Invitational
---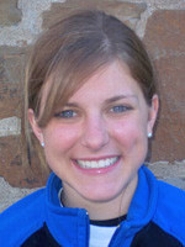 Liz Wahl '10 and Laurie Horesta '12 earned first place finishes for Hamilton College, and the Continentals placed third of 14 teams at the University of Rochester Invitational on April 10.
Wahl crossed the finish line in the 100-meter dash in 13.15 seconds for the victory. Horesta recorded a mark of 32.78 meters (107 feet, 6 inches) for her win in the javelin throw.
Wahl also earned a runner-up finish in the 200-meter dash, finishing in 26.68 seconds. Muriel Schwinn '13 took fourth in the same event with a time of 27.07 seconds. Schwinn also claimed third place in the long jump with a distance of 5.24 meters (17-feet-2 ¼).
In the 800-meter run, Glenn Watkins '12 finished in second place with a time of 2:26.29. Rachel Cackett '13 was fifth in the 5,000-meter run, finishing in 19:44.09. Sarah Boak '12 claimed fifth place in the 400-meter hurdles with a time of 1:10.00.
Alexandra Americanos '10 took seventh place in the 100-meter dash with a time of 13.49 seconds. Caitlin Hult '12 crossed the finish line in the 400-meter dash in 1:03.97 to take eighth place. In the 1,500-meter run, Maddy Gunter '11 posted a time of 5:07.68 to take seventh place. Claire Hunsinger '13 tied for seventh in the high jump with a height of 1.43 meters (4-feet-8 ¼).

Hamilton's team of Wahl, Schwinn, Alex Rimmer '13 and Americanos won the 400-meter dash with a time of 51.56 seconds.
The Continentals finished with a team total of 83.60 points. Rochester won the invitational with a total of 229.70 points. SUNY Geneseo finished second with 121.10 points.
The Continentals compete on Tuesday, April 13, at home for the Hamilton Mid-Week Meet.