Women's track & field hosts Continental Invitational
---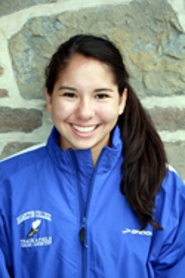 Hamilton College finished first in four events as Hamilton hosted the non-team scoring Continental Invitational at Pritchard Track on April 2.

Emily Heckman '13 was first out of 24 athletes in the 800-meter run with a time of 2:26.30. Sarah Ohanesian '14 was right behind in second place in 2:29.36.

Muriel Schwinn '13 captured first place in the long jump with a mark of 5.15 meters (16 feet, 10.75 inches). Schwinn went on to finish second in the 100-meter dash (13.12 seconds), and sixth in the 200-meter dash (27.20 seconds).

The 3,200-meter relay took first place with a time of 11:00.66. Hannah Kloeckner '14, Erin West '11, Meredith FitzPatrick '11 and Allie Gurney '14 were on the relay. Hamilton also won the 1,600-meter relay in 4:26.61. Heckman, Ohanesian, Anna Heywood '13 and Emily Richey '14 were the four on that relay.

FitzPatrick ended up second in the 1,500-meter run with a time of 5:05.99, and West was fifth in 5:09.94. Hannah Lyons '14 finished fifth in the 5,000-meter run with a time of 19:41.15.

Claire Hunsinger '13 was strong in the field events. Hunsinger took second place in the javelin throw with a distance of 27.76 meters (91 feet, 1 inch), third place in the triple jump with a mark of 9.23 meters (30 feet, 3.5 inches) and sixth in the high jump with a height of 1.47 meters (4 feet, 9.75 inches). Molly Brooks '14 finished sixth in the hammer throw with a toss of 36.64 meters (120 feet, 2 inches).

More than 10 teams participated in the meet. The Continentals will be in an invitational at the University of Rochester on Saturday, April 9.