Women's track & field hosts Hamilton Invitational
---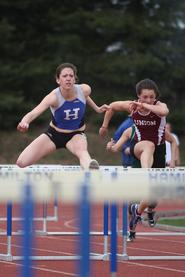 Kristen Selden '09 broke a school record in one event and a meet record in another as Hamilton College hosted its own non-team scoring invitational at Pritchard Track on April 18.
Selden threw the discus 34.96 meters to place second in the meet and break Hamilton's program record. The old record was 34.43 meters, which was set in 2007 by Kary Pardy '08.
Selden broke a meet record with a time of 16.02 seconds in the 100-meter hurdles. The time is just .01 short of her own school record in the event. The old meet record was 16.09 seconds, which was set in 2003 by an athlete from Mohawk Valley Community College.
Liz Wahl '10 racked up a pair of first-place finishes for the Continentals. Wahl ran the 400-meter dash in 1:01.92 and the 200-meter dash in 26.42 seconds to win each event.
Hamilton was strong in the distance events. Emily Potter '12 won the 3,000-meter steeplechase with a time of 12:14.77 and Abby Jones '09 won the 5,000-meter run in 19:20.99. Meredith FitzPatrick '11 won the 1,500-meter run in 5:00.92. The Continentals swept the top four places in the event.
Sarah Boak '12 won the 400-meter hurdles with a time of 1:10.17. Ally Leighton '10 and Reisa Asimovic '11 each produced a second-place finish for the Continentals. Leighton finished the 800-meter run in 2:35.97 and Asimovic finished the 100-meter dash in 13.30 seconds.
Hamilton field athletes swept the top two spots in two different events. Rebecca Yaguda '09 and Jess Salwen '09 finished 1-2 in the pole vault. Yaguda cleared 2.95 meters and Salwen cleared 2.80. Kate Greenough '09 threw the javelin 30.81 meters and Laurie Horesta '12 recorded a distance of 27.83 meters.
Hamilton competes in the New England Small College Athletic Conference championships on Saturday, April 25, at Connecticut College.