Women's track & field hosts invitational
---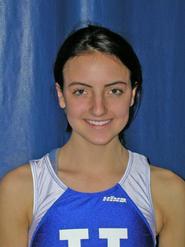 Meredith FitzPatrick '11 finished first in the 3,000-meter run as Hamilton College hosted the non-team scoring Continental Invitational at a resurfaced Margaret Bundy Scott Field House on Jan. 22.

Several teams, including Williams College, Union College, Rensselaer, Nazareth College and Roberts Wesleyan University, came to Clinton, N.Y., to try out the renovated indoor track and field facility. The highlight of the renovation -- completed in September 2010 -- is a state-of-the-art track surface.

FitzPatrick's winning time in the 3,000 meters was 11:25.62. The two-time all-region performer in cross country is back on the team for the first time since 2007-08.

Muriel Schwinn '13 finished third in three events. She took third in the finals of the 55-meter dash, but recorded a time of 7.61 seconds in the preliminary heats. She posted a time of 28.73 seconds in the 200-meter dash, and leaped 4.91 meters (16-feet-1½) in the long jump.

Maddy Gunter '11 was runner-up in the mile run with a time of 5:35.51, and Erin West '11 was fifth in 5:39.79. Abby King '11 took second place in the 1,000-meter run with a time of 3:23.04. Sarah Ohanesian '14 ended up sixth in the 800-meter run in 2:40.80. Molly Brooks '14, who started every game in goal for field hockey in the fall, registered a mark of 11.14 meters (36-feet-6¾) and finished third in the shot put.

Hamilton competes in an invitational at Colgate University on Saturday, Jan. 29.