Women's track & field hosts mid-week meet
---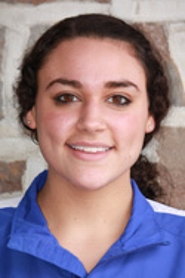 Five Hamilton College athletes finished first in seven events as the Continentals hosted the multi-divisional, non-team scoring Hamilton Mid-Week Meet at Pritchard Track on April 20.

Full results

Molly Brooks '14 captured first place in three field events. Brooks recorded distances of 10.77 meters in the shot put, 38.75 meters in the hammer throw and 29.06 meters in the discus.

Muriel Schwinn '13 was first in the long jump (5.02 meters), and second in the 100-meter dash (12.99 seconds). Hannah Jaiven '14 cleared 2.75 meters in the pole vault to take first place, and Claire Hunsinger '13 finished first in the javelin throw with a distance of 24.12 meters.

Hannah Lyons '14 claimed first place in the 1,500-meter run with a time of 5:23.94. Sarah Ohanesian '14 ended up second in the 800-meter run in 2:27.56.

The Continentals host the Hamilton Invitational on Saturday, April 23, at 11 a.m.