Women's track & field places 7th in state indoor championship
---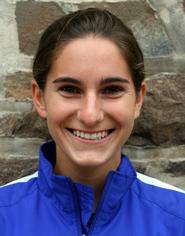 Hamilton College's 4x800-meter relay finished first in the 2012 New York State Collegiate Track Conference men's and women's indoor track & field championships at Hamilton's Margaret Bundy Scott Field House on Feb. 25.

Results

The Continentals placed seventh with 33 team points in the two-day meet. Ithaca College breezed past the 11-school field to the team title with 266 points.

Sarah Ohanesian '14, Sarah Boak '12, Glenn Watkins '12 and Emily Heckman '13 were the members of the winning relay. Their time of 9:52.69 qualified the group for the Eastern College Athletic Conference (ECAC) Division III championships in New York City next weekend. Ohanesian ended up seventh in the 800-meter run with a time of 2:24.85.

Tina Choinski '15 captured fourth place in the 1,000-meter run with a time of 3:11.12. Hannah Lyons '14 took eighth place in the 3,000-meter run with a time of 10:59.75.

Muriel Schwinn '13 was ninth in the finals of the 60-meter dash with a time of 8.39 seconds. Schwinn qualified Friday for the finals with a time of 8.25 seconds.

The ECAC championships start on Friday, March 2.