Women's track & field places 9th at state championships
---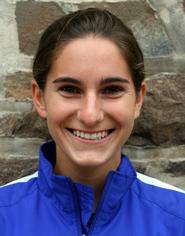 Hamilton College placed ninth out of 11 teams at the 2012 New York State Collegiate Track Conference outdoor championships, which were held at the University of Rochester's Fauver Stadium on May 4 and 5.

Hamilton's 4x800-meter relay of Sarah Ohanesian '14, Krystina Choinski '15, Glenn Watkins '12 and Emily Heckman '13 qualified for the 2012 Eastern College Athletic Conference Division III outdoor track and field championships at Rensselaer on Thursday and Friday, May 17 and 18. The quartet finished fourth in the event with a time of 9:42.12.

Ohanesian took fifth place in the 800-meter run with a time of 2:22.70. Emily Potter '12 was seventh in the 3,000-meter steeplechase with a time of 12:06.56 and Emily Banzer '15 ended up right behind Potter in eighth place with a time of 12:11.89.

In the field events, Muriel Schwinn '13 claimed fifth place in the long jump with a mark of 5.07 meters. Hannah Jaiven '14 tied for fifth place in the pole vault as she cleared 3.10 meters.

Hamilton posted 20.5 team points and nationally ranked Ithaca College easily won the team title with 296.5 points.