Women's track & field places sixth at St. Lawrence Invite
---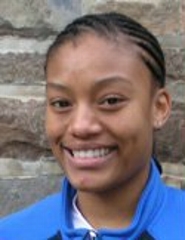 Hamilton College placed sixth in the 11-team field with 37 points at the St. Lawrence University Invitational at Newell Field House on Jan. 24.
Akilah Bond '09 recorded the Continentals' lone first-place finish with a win in the long jump at 5.13 meters (16-feet-10). Bond also took second in the triple jump with a leap of 10.66 meters (34-feet-11¾). Her performance in the long jump qualified her for the Eastern College Athletic Conference Division III championships in that event.
Rebecca Yaguda '09 was runner-up in the pole vault as she cleared 2.85 meters (9-feet-4¼). In the high jump, Lauren Peters-Collaer '11 took fifth place at 1.43 meters (4-feet-8¼). Elizabeth Wahl '10 recorded another fifth-place finish with a time of 27.82 seconds in the 200-meter dash.
Gen Flanders '09 placed third in the 1,000-meter run with a time of 3:18.01. Flanders also took seventh in the mile run at 5:35.36.
Hamilton will travel to Colgate University for the Class of '32 Invitational on Saturday, Jan. 31.