Women's track & field places third at league championships
---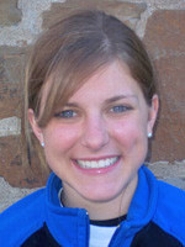 Hamilton College athletes placed in the top three in six events and the Continentals finished third at the Liberty League indoor track & field championships at St. Lawrence University's Newell Field House on Feb. 14.
The Continentals scored a total of 77 points. St. Lawrence amassed 181.50 points and captured the team title. The top two finishers in each individual event and the winning relays earn a spot on the all-league team.
Liz Wahl '10 led the way with a pair of top-two finishes for Hamilton. Wahl sprinted to first place in the 200-meter dash with a time of 27.16 seconds, and took second in the 55-meter dash in 7.73 seconds. She automatically qualified for the state championship meet in the 200.
Akilah Bond '09 recorded the Continentals' only other event victory with a mark of 11.01 meters (36-feet-1½) in the triple jump. Bond also finished fourth in the 55 meters with a time of 7.84 seconds. Danica Wuelfing '10 was fourth in the triple jump and Rebecca Yaguda '09 ended up sixth with distances of 9.96 (32-feet-8¼) and 9.66 meters (31-feet-8½), respectively.
Yaguda tied for second place in the pole vault as she cleared 2.93 meters (9-feet-7¼), and Lauren Peters-Collaer '11 took third in the high jump with a height of 1.50 meters (4-feet-11). Both athletes qualified for the state meet.
Gen Flanders '09 finished third in the mile run in 5:36.29 and was fifth in the 5,000-meter run with a time of 19:58.55. Abby Jones '09 was right behind Flanders in the 5,000 meters in 20:06.09.
Hamilton competes in Cornell University's Denault Invitational on Saturday, Feb. 21, at 11 a.m.