Women's volleyball swept by Middlebury
---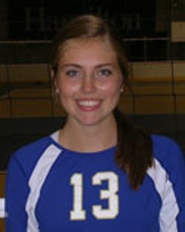 Jane Handel '12 posted 11 kills, 12 digs and four aces to lead Middlebury College to a three-set win against Hamilton College in a New England Small College Athletic Conference women's volleyball match at Hamilton's Margaret Bundy Scott Field House on Oct. 29.

Middlebury (20-5 overall, 7-2 NESCAC) won its fifth straight match. The set scores were 25-16, 25-19 and 25-14. The Panthers are in second place in the NESCAC standings with one conference match left. Middlebury plays Williams College at Hamilton on Saturday, Oct. 30.

The Continentals (13-13, 1-8) entered the evening with wins in four of their last five matches. Hamilton hosts Amherst College in conference play for the regular season finale on Saturday at 1:30 p.m.

Julia Gibbs '13 hammered 11 kills and served two aces for the winners. Megan Jarchow '14 smashed 10 kills and was credited with 10 digs. Lauren Barrett '11 passed out 39 assists and Caitlin Barrett had a team-high 19 digs.

Brenna Corrigan '14 paced the Continentals with eight kills and nine digs. Megan McCareins '14 pounded seven kills and added eight digs. Ally Martella '13 chipped in six kills and Meredith Nuber '14 had five. Cecelie Pikus '13 and Sarah Pfund '14 handed out 11 and 10 assists, respectively. Rachel Irizarry '12 finished with eight digs.

Handel closed out all three sets with a kill. The Panthers jumped out to a 9-4 lead in the first set and never trailed. In the second set, Middlebury scored eight of the first nine points, and cruised to the six-point victory. Hamilton scored the first two points in the final set, but the Panthers rebounded with seven in a row for a 7-2 lead. Middlebury pulled away from there, and captured the deciding set by 11 points.