Women's volleyball baffles Bates for NESCAC win
---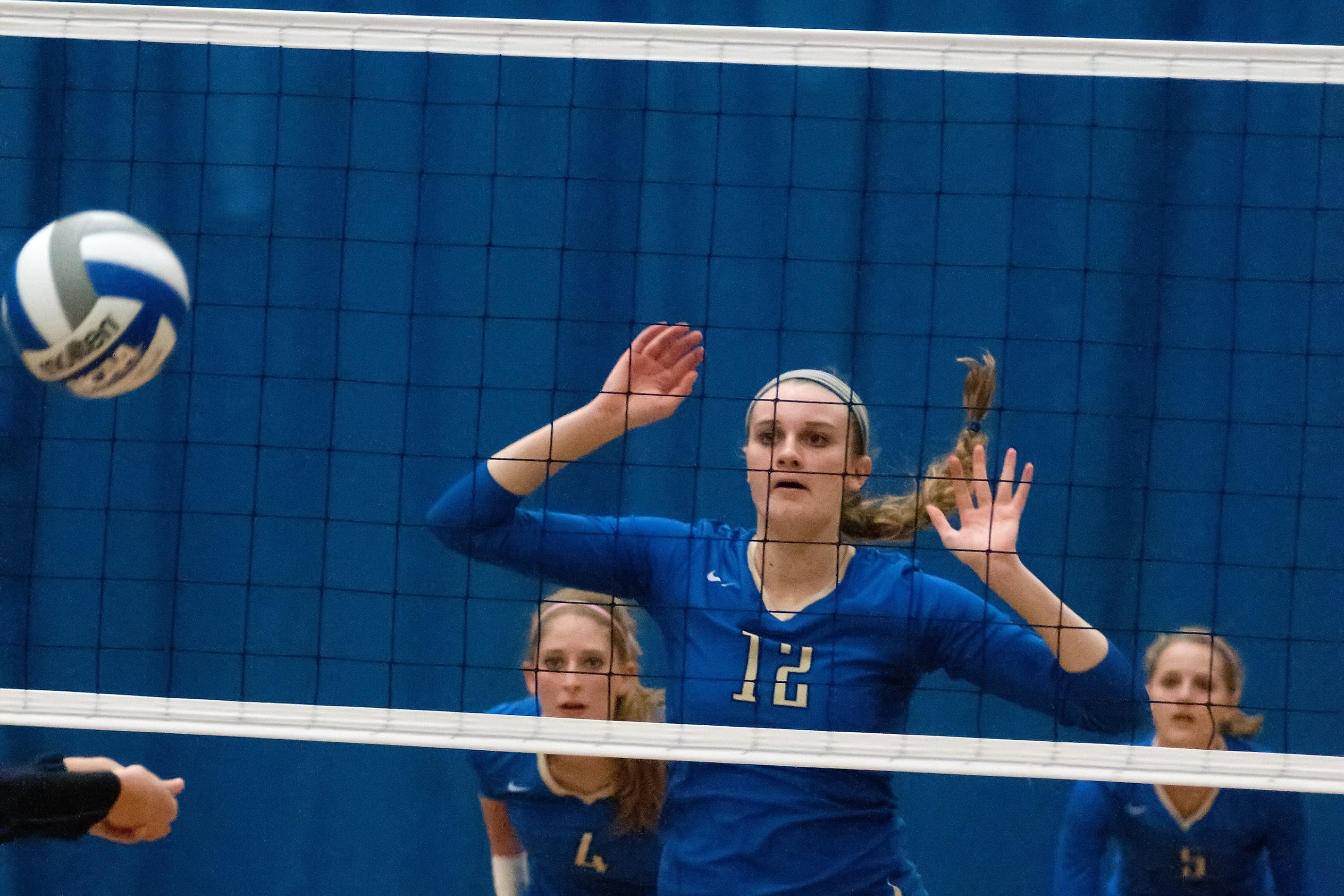 Hamilton College's Jessica Weston '17 smashed 12 kills and added four blocks, and the Continentals defeated the Bates College Bobcats in four sets in a NESCAC match at Hamilton's Margaret Bundy Scott Field House on Nov. 1.

Box Score

The Continentals (5-16, 1-8 NESCAC) picked up their first conference win since Sept. 14, 2012, when they defeated Bates in four sets in Lewiston, Maine. Hamilton honored seniors Brenna Corrigan '14 and Sarah Pfund '14 prior to the start of the match. The set scores were 19-25, 25-16, 26-24 and 25-15.

Ivanka Temnycky '17 chipped in 11 kills for the Continentals. Emma Lonadier '15 posted 10 kills, five service aces and 18 digs. Erin Casey '15 added nine kills and a career-high 10 digs, and Courtney Somerville '16 smacked eight kills. Pfund was credited with 38 assists and 13 digs, and Anna Brown '15 led the team with 25 digs. Brown moved past Allie Massaro '07 and into fourth place on the program's all-time list with 1,173 career digs.

Gabby O'Leary '17 paced the Bobcats with eight kills. Tess Walther '15 passed out 17 assists and added 15 digs, and Miranda Shapiro '15 had 12 assists. Nicole Cueli '16 served three aces and Laryssa Schepel '16 led the defense with 25 digs. Chandler McGrath '17 boasted a match-high six blocks and Nicole Peraica '17 finished with five.

Bates (11-16, 2-7) fell behind 7-1 early in the first set and still trailed by six points at 11-5. The Bobcats went on a 10-3 run and took their first lead at 15-14. After the Continentals tied the score at 15-15, Bates rattled off the next three points and Mary Deneen '16 closed things out with her only kill of the first set.

The Continentals jumped out to a huge early lead again in the second set at 10-2. This time, however, Hamilton didn't allow the Bobcats to rally as the closest Bates was able to get the rest of the set was three points at 11-8. The Continentals led by as many as 12 points late and Temnycky hammered a kill on set point.

In the third set, it was Hamilton's turn to erase a big deficit. The Bobcats enjoyed a 13-5 cushion but the Continentals recorded the next eight points and tied the score. Bates recovered and Hamilton didn't take its first lead until 19-18. The score was tied twice down the stretch, including 24-24 after an ace by the Bobcats' Cueli. Lonadier put the Continentals in front for good with her fifth kill of the set and Temnycky's kill ended it.

Bates held just one lead in the fourth and final set at 1-0 but Hamilton didn't pull away until late. It was still a one-point lead for the Continentals at 13-12 when they tallied three straight points and gave themselves some breathing room. After a point by the Bobcats made it 16-13, Hamilton essentially clinched the victory with a 6-0 run. Another kill by Lonadier ended the match.

The Continentals host Bowdoin College for another NESCAC match and their season finale on Saturday, Nov. 2. Bates, which is in a three-way tie for the eighth and final spot in the 2013 NESCAC championship, wraps up its regular season at Middlebury College on Saturday.