Women's volleyball bumped by Bowdoin
---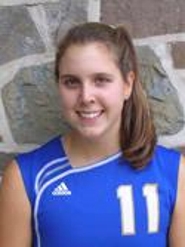 Bowdoin College swept Hamilton College in three sets in a New England Small College Athletic Conference match played at Middlebury College in Middlebury, Vt., on Oct. 16.
Hamilton (4-21 overall, 0-6 NESCAC) plays NESCAC matches against Tufts University and Middlebury on Saturday, Oct. 17. Both contests are at Middlebury again. The Tufts match starts at 11 a.m. and the Middlebury match begins at 4 p.m.
The first two sets were competitive as Bowdoin prevailed by scores of 25-22 and 25-23. The Polar Bears (15-6, 4-2) finished with a flourish as they captured the final set, 25-6.
Ally Martella '13 posted a team-high seven kills and served two aces. Rachel Irizarry '12 paced the defense with nine digs and hammered two aces. Cecelie Pikus '13 was credited with 12 assists and eight digs. Liz Reid '11 recorded two blocks and Alyssa Hopper '13 smacked two aces.