Women's volleyball captures Classic title
---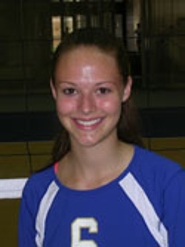 Hamilton College won two more matches and captured the 2011 Continental Classic with a perfect 4-0 record at Hamilton's Margaret Bundy Scott Field House on Oct. 22.

Hamilton (17-10 overall) equaled its highest win total since 1999, when the Continentals also won 17 matches. Hamilton has won three tournaments in 2011 as the Continentals claimed the Hamilton Invitational and the Hartwick/Holiday Inn Invitational titles earlier this fall.

The Continentals knocked off Keuka College in four sets (28-26, 23-25, 25-13, 25-13) early Saturday afternoon. Hamilton rounded out the tournament with a three-set sweep (25-11, 25-16, 25-19) of Massachusetts College of Liberal Arts.

Anna Brown '15 was the Continentals' representative on the all-tournament team. Brown finished with 27 digs in the victory against Keuka. She added eight digs against MCLA.

Against Keuka (16-9), Meredith Nuber '14 pounded 12 kills and added three blocks. Megan McCareins '14 chipped in nine kills and 25 digs, and Amanda Cohen '13 smacked nine kills. Ava Kelley '15 hammered eight kills.

Cecelie Pikus '13 was credited with 23 assists and 14 digs. Sarah Pfund '14 recorded 14 assists and 10 digs. Erin Casey '15 and Ally Martella '13 led the defense at the net with five blocks apiece.

Paige Golden led Keuka with a match-high 15 kills and three aces to go with 22 digs. Devan Curtis had nine kills and 11 digs, and Rachael Perry ended up with nine kills and 10 digs. Amie Pizura passed out 27 assists, Taylor Smith led all players with 28 digs and Brittany Smyder finished with five blocks.

Against MCLA (11-20), Nuber again led the way with 13 kills and no errors in 22 attempts. She also contributed seven blocks. Kelley recorded eight kills and eight digs, and McCareins smashed seven kills.

Pikus and Pfund ended up with 19 and 12 assists, respectively. Pfund added eight digs. Martella served up three aces and Casey had four blocks.

Hamilton goes for its eighth straight win on Friday, Oct. 28, when the Continentals take on Middlebury College for a NESCAC match at Amherst College.