Women's volleyball captures tournament title
---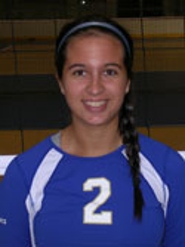 Hamilton College won two more matches and clinched the 2011 Hamilton Invitational title at Margaret Bundy Scott Field House on Sept. 3.

The Continentals won all four of their tournament matches, and started a season 4-0 for the second year in a row. Hamilton defeated SUNY Canton in four sets (25-18, 21-25, 25-18, 25-12) in the Continentals' first match on Saturday. Hamilton outlasted Southern Vermont College in five sets (21-25, 25-13, 20-25, 25-21, 15-7) in a clash between two unbeatens.

Cecelie Pikus '13 was the Continentals' representative on the all-tournament team. Pikus recorded 15 assists and a team-high nine digs against Canton, and posted 10 digs and 18 assists against Southern Vermont.

Against Canton (0-4 overall), Hamilton's team hitting percentage was .259, while the Kangaroos finished at .105. Meredith Nuber '14 pounded 12 kills and had five blocks. Brenna Corrigan '14 was next with 11 kills, and Ally Martella '13 added 10 to go with four blocks.

Emma Lonadier '15 contributed 25 assists, eight digs and three aces. Megan McCareins '14 came up with eight kills and seven digs in just two sets.

Against Southern Vermont, Nuber was a force again with 13 kills and five blocks. Ava Kelley '15 hammered eight kills, and Martella boasted seven kills with no errors in 14 attempts. McCareins registered seven kills and a team-high 18 digs.

Lonadier enjoyed a fine all-around performance with 19 assists, 16 digs, four aces and three blocks. Anna Brown '15 helped the defensive effort with 15 digs.

The Continentals aim to remain undefeated with two more matches in the Victory Promotions Invitational at SUNY Potsdam on Friday, Sept. 9. Hamilton plays SUNY Plattsburgh at 6 p.m. and Potsdam at 8. The Continentals edged Plattsburgh in five sets on Sept. 2.