Women's volleyball clipped at Colby
---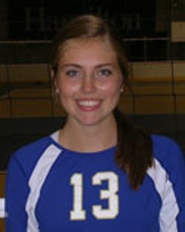 Colby College remained undefeated with a four-set victory against Hamilton College at Colby's Wadsworth Gymnasium on Sept. 15.

Colby (5-0 overall, 1-0 NESCAC) prevailed by scores of 26-24, 22-25, 25-18 and 25-22. The Mules put their perfect record on the line on Wednesday, Sept. 19, when they host nationally ranked Bowdoin College.

Brenna Corrigan '14 paced Hamilton with 16 kills and 21 digs. Blaire Frett '16 posted a season-high 13 kills and added four blocks. Amanda Cohen '13 pounded 10 kills and Ally Martella '13 chipped in seven to go with four blocks.

Anna Brown '15 helped lead the defense with 20 digs, and Emily Rosen '15 recorded 14. Emma Lonadier '15 passed out 25 assists and Sarah Pfund '14 was credited with 22.

The Continentals (3-4, 1-1) compete in Elizabethtown College's Blue Jay Classic on Friday, Sept. 21. Hamilton takes on Gettysburg College at 5:30 p.m. and Ramapo College at 7:30.