Women's volleyball clips Cazenovia
---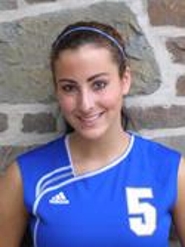 Amanda Cohen '13 recorded a team-high 11 kills, 14 digs and four aces to lead Hamilton College to a four-set win over visiting Cazenovia College in a non-conference match at Margaret Bundy Scott Field House on Oct. 13.

Hamilton (4-20 overall) ended its losing streak at seven matches, while Cazenovia (5-13) dropped its fifth in a row. The set scores were 25-19, 16-25, 25-18 and 25-21.
Ally Martella '13 and Alex Singh '11 reached double figures in kills with 10 apiece. Singh also served three aces. Rachel Irizarry '12 contributed 11 digs and served three aces. Alyssa Hopper '13 posted 11 digs. Martella and Liz Reid '11 tallied three blocks apiece. Cecelie Pikus '13 passed out a season-high 33 assists.

The first set was tied 8-8 until Hamilton reeled off four straight points and cruised to the six-point win. In the second set, Cazenovia held a slim lead at 10-7, but went on a five-point run and breezed to claim its lone set of the evening.

The Continentals came from behind to capture the third and fourth sets. Hamilton recovered from a 13-12 deficit in the third with five straight points and won by seven. The Wildcats led 18-16 in the final set, but Singh rallied the Continentals with six straight points, including five on her serve. Cazenovia answered with three consecutive points to claw within 22-21, but Hamilton clinched the win with the final three points. Reid and Kristin Stenerson '12 were credited with block assists on match point.
The Continentals travel to play a NESCAC match against Bowdoin College at Middlebury College on Friday, Oct. 16, at 8 p.m.