Women's volleyball drops 2011 finale at Amherst
---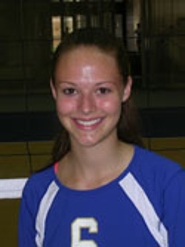 KC Kanoff and Lauren Antion led Amherst College to a three-set NESCAC victory against Hamilton College at Amherst's LeFrak Gymnasium on Oct. 29.

The Jeffs (20-6 overall, 6-4 NESCAC) won their third straight match and finished the regular season 7-0 at home. The set scores were 25-20, 25-19 and 25-12.

Kanoff and Antion hammered 13 kills apiece, and Abigail Hunter chipped in seven kills. Callie Neilson passed out 33 assists and Kristin Keeno led Amherst with 25 digs and three service aces. Devin Pence finished with 12 digs.

Hamilton (17-12, 1-9) was led by six kills apiece from Megan McCareins '14 and Ava Kelley '15. McCareins added nine digs.

Ally Martella '13 and Meredith Nuber '14 smacked five kills apiece, and Nuber had two blocks. Sarah Pfund '14 was credited with 11 assists, Anna Brown '15 ended up with 19 digs and Erin Casey '15 recorded two blocks.

In the first set, the Continentals led 8-7 after a Martella kill, and stretched their lead to 11-7 on an Amherst hitting error. Hamilton pulled ahead 16-10 on a Nuber spike when the Lord Jeffs rallied with a 10-1 run to take a 20-17 lead on a Kanoff kill. Ahead 24-20, Antion recorded a block on McCareins to give Amherst the first set.

Amherst jumped out to a 7-4 lead in the second set. Keeno later notched consecutive aces to put the Jeffs up 16-7. A Nuber spike pulled Hamilton within four at 22-18, but Amherst closed out the 25-19 win with a Hunter kill.

Amherst scored the first five points in the third set, and found itself up 9-3 after a Mary Reiser kill. The Jeffs went on to lead 22-11 on a Cristy Meier kill, and cruised to the 25-12 triumph.

Hamilton's 17 wins are the most in a season since the Continentals finished 17-14 in 1999.