Women's volleyball drops conference opener
---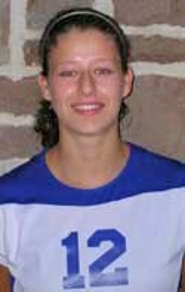 Hamilton College fell to visiting Williams College in three sets in its opening New England Small College Athletic Conference match played at Margaret Bundy Scott Field House on Sept. 22.
Alex Singh '11 led Hamilton (2-12 overall, 0-1 NESCAC) with five kills and a team-high nine digs. Ally Marella '13 also contributed five kills and added two aces. Kristin Stenerson '12 recorded four kills. Cecelie Pikus '13 passed out 18 assists and added six digs. Rachel Irizarry '12 was credited with seven digs.
Williams (5-3, 1-0), who was ranked in the NCAA Division III Top 25 coaches poll earlier this season, set the tone early in the match. The Ephs jumped out to an 11-0 lead in the first set and went on to win 25-5. Hamilton fought back in the second set and actually held a 12-8 lead at one point. However, Williams ran off the next nine points and never trailed again in the set en route to a 25-20 victory. The Ephs cruised to a 25-6 win in the third set.
The Continentals compete in their two-day tournament where they will host the University of Rochester and Regis on Friday, Sept. 25.