Women's volleyball drops home match
---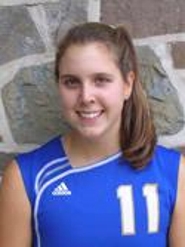 Hamilton College fell to visiting Morrisville State College in three sets in a non-conference match played at Margaret Bundy Scott Field House on Oct. 6.
Hamilton (3-18 overall) was led by Ally Martella '13, who posted a team-high five kills and three blocks, and added two aces. Alex Singh '11 smashed three aces. Liz Reid '11 was credited with four kills and added one block.
Alyssa Hopper '13 led the defense with 11 digs. Kristin Stenerson '12 recorded 10 digs and served two aces. Cecelie Pikus '13 passed out 15 assists and added six digs.
The Mustangs (8-7) won by scores of 25-11, 25-19 and 25-18. Morrisville scored the first two points in the first set and cruised to the win.
The final two sets were a lot tougher for the Mustangs. The score was tied at 18 in the second set when Morrisville scored six straight points to seize control. In the third and final set, the Continentals jumped on top 4-0, but the Mustangs rallied to take a 14-10 lead. Hamilton notched the next four points to tie the score at 14, but Morrisville recorded the next two points and never trailed again.
The Continentals return to action on Saturday, Oct. 10, when they travel to Connecticut College to face the Camels and Wesleyan University for two NESCAC matches.