Women's volleyball drops last two home matches
---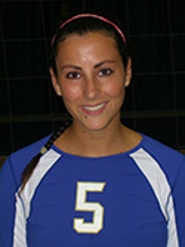 Hamilton College suffered a three-set loss against NESCAC rival Middlebury College and a four-set setback against nationally ranked No. 12 SUNY Cortland in the Continentals' final home matches of 2012 at Margaret Bundy Scott Field House on Oct. 6.

Hamilton (7-12 overall, 1-5 NESCAC) fell to Middlebury by scores of 25-12, 25-18 and 25-17 on Saturday morning. The Continentals came out firing in the afternoon against powerful Cortland and won the first set, 25-16. The Red Dragons rebounded to capture the final three sets by scores of 25-19, 25-15 and 25-11.

Against Middlebury (12-3, 5-1), Erin Casey '15 and Blaire Frett '16 hammered five kills apiece. Frett led the defense at the net with two solo blocks.

Emma Lonadier '15 was credited with 13 assists and Sarah Pfund '14 served two aces. Emily Rosen '15 posted a team-high eight digs. The Panthers committed just eight attack errors and boasted a .347 attack percentage.

Against Cortland (23-2), Amanda Cohen '13 smacked 12 kills in the last home match of her Hamilton career. Brenna Corrigan '14 chipped in nine kills, two aces and 15 digs.

Lonadier and Pfund passed out 15 and 12 assists, respectively. Lonadier and Ally Martella '13 added two aces apiece, and Frett had a team-high three blocks. Rosen picked up 14 digs and Anna Brown '15 contributed a dozen.

The Continentals travel to Tufts University for a NESCAC match on Friday, Oct. 12.