Women's volleyball drops NESCAC match to Bates
---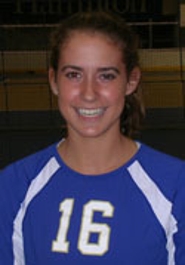 Hamilton College lost a tough four-set match against Bates College in New England Small College Athletic Conference action at Williams College's Chandler Gym on Oct. 8.

Hamilton (8-7 overall, 0-4 NESCAC) took Bates to the wire in the first two sets, but fell by scores of 28-26 and 25-23. The Continentals broke through with a 25-16 decision in the third set, but the Bobcats clinched the victory by a 25-20 count in the fourth. Bates (6-10 overall) won its first conference match in five tries this year.

Megan McCareins '14 hammered a team-high 13 kills and posted a season-high 21 digs for Hamilton. Brenna Corrigan '14 chipped in 12 kills and 12 digs. Meredith Nuber '14 recorded seven kills and three blocks, and Ally Martella '13 added six kills and three blocks.

Rachel Irizarry '12 helped pace the defense with 21 digs and served three aces. The Continentals lead the NESCAC in aces per set. Cecelie Pikus '13 passed out 19 assists and pounded three aces, and Sarah Pfund '14 was credited with 17 assists.

Hamilton plays two more NESCAC matches at Williams on Saturday, Oct. 9. The Continentals take on Colby College at 11 a.m. before they clash with the host Ephs at 4 p.m.