Women's volleyball drops pair of matches
---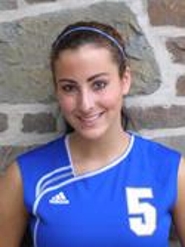 Hamilton College lost two matches in pool play at the Victory Promotions Invitational held at St. Lawrence University in Canton, N.Y., on Sept. 11.
Hamilton (1-5 overall) was swept by St. Lawrence (25-19, 25-23, 25-13), and fell in four sets against SUNY Oswego (16-25, 25-22, 25-19, 25-18). The Continentals will play in the bronze pool again at St. Lawrence on Saturday, Sept. 12. SUNY Potsdam and Morrisville State College will join Hamilton as the matches start at 11 a.m.
Amanda Cohen '13 posted eight kills, nine digs and three blocks against Oswego (2-4). Ally Martella '13 chipped in seven kills and three blocks. Rachel Irizarry '12 led the defense with 11 digs. Kristin Stenerson '13 served six aces and Cecelie Pikus '13 added four. Alyssa Hopper '13 was credited with 12 assists.
Martella recorded five kills and two blocks against St. Lawrence (6-0). Irizarry had 10 digs, Cohen smacked two aces and Hopper finished with six assists.