Women's volleyball drops pair of matches
---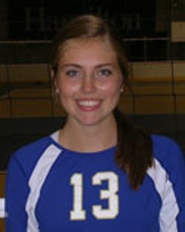 Hamilton College was swept in a pair of matches played at Hamilton's Margaret Bundy Scott Field House on Sept. 29.

Amherst College (6-3 overall, 2-2 NESCAC) won by scores of 25-23, 25-16 and 25-22 in NESCAC action. The Continentals finished with 80 digs but couldn't solve Amherst.

SUNY New Paltz (17-3) triumphed by scores of 25-22, 25-21 and 25-19. The Hawks extended their win streak to six matches.

Hamilton (6-9, 1-3) has lost three in a row. The Continentals aim to get back in the win column on Wednesday, Oct. 3, with a non-conference match at Utica College.

Against the Jeffs, Brenna Corrigan '14 paced Hamilton with nine kills, two aces and 13 digs. Amanda Cohen '13, Blaire Frett '16 and Ally Martella '13 chipped in five kills each.

Sarah Pfund '14 posted her second straight double-double and fourth this year with 12 assists and 11 digs. Emma Lonadier '15 was credited with 14 assists and Anna Brown '15 led the defense with 26 digs. Emily Rosen '15 added 11 digs and Frett and Erin Casey '15 recorded three blocks apiece.

Against New Paltz, Corrigan posted a double-double with 10 kills and 14 digs. Cohen hammered 10 kills and Martella and Courtney Somerville '16 had six apiece.

Pfund passed out 20 assists and Lonadier finished with 10. Brown ended up with a match-high 18 digs and Rosen recorded 15. Frett led the defense at the net with four blocks, and Martella and Somerville contributed three apiece.