Women's volleyball drops pair of NESCAC matches
---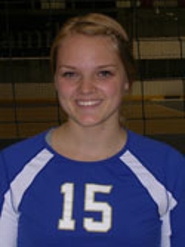 Hamilton College dropped a pair of NESCAC matches at Hamilton's Margaret Bundy Scott Field House on Oct. 1.

Hamilton (8-7 overall, 0-5 NESCAC) fell to Wesleyan University in five sets (25-23, 26-24, 23-25, 23-25, 15-7), and was swept by Williams College in three sets (25-20, 25-22, 25-22). The Continentals return to NESCAC play against Bates College at Williams on Friday, Oct. 7.

Wesleyan (4-10, 1-3) was led by Casey Reed '12, who recorded a match-high 17 kills. Monica Leslie '14 chipped in 14, and Kim Farris '14 and Laura Volgenau '13 added 10 apiece. Claire Larson '15 was credited with 51 assists. Jeanne McPhee '13 served three aces and came up with 34 digs. Farris led the defense at the net with eight blocks.

Meredith Nuber '14 smashed a season-high 16 kills and added six blocks. Amanda Cohen '13 had 11 kills and 17 digs. Ava Kelley '15 boasted 10 kills with just one error in 23 attempts. Cecelie Pikus '13 passed out 26 assists and served three aces. Ally Martella '13 pounded a match-high four aces. Anna Brown '15 paced the defense with 23 digs, and Erin Casey '15, Kelley and Martella added four blocks each.

Williams (11-5, 3-2) extended its win streak to six matches. Claire Miller '15 led the Ephs with 11 kills, and Emily Baratta '14 added 10. Amanda Schott '15 handed out 34 assists and came up with 13 digs. Aly McKinnon '12 ended up with a match-high 20 digs.

Nuber hammered 13 kills with just one error in 22 attempts for a .545 hitting percentage. She added a match-high five blocks. Megan McCareins '14 posted 13 kills and 12 digs, and Brown had a team-high 15 digs. Pikus finished with 16 assists and Sarah Pfund '14 had 15. Kelley led the defense at the net with four blocks.