Women's volleyball edged in five sets
---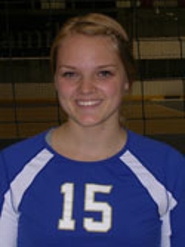 Hannah Brickley '14 hammered 22 kills and added 17 digs to lead Trinity College to a five-set victory against Hamilton College in a NESCAC match at Hamilton's Margaret Bundy Scott Field House.

None of the first four sets were particularly close (25-18, 16-25, 25-15, 15-25), but Trinity rallied to win the fifth 15-12 in dramatic fashion. The Bantams trailed 9-6 in the fifth and scored four straight points to grab a 10-9 edge. The Continentals tied the score at 10 and 11, but never led again.

Danielle Isaman '13 chipped in 11 kills and 19 digs for the winners. Jennifer Low '12 was credited with 40 assists and 15 digs, Sarah Blagden '12 led all players with 37 digs and Alexandra Pell '12 had 17. Clara Zinman '14 served a match-high five aces. Trinity finished with nine aces, but 11 service errors almost proved to be costly.

Hamilton (8-5 overall, 0-3 NESCAC) was led by Meredith Nuber '14 and her 10 kills and five blocks. Megan McCareins '14 smacked nine kills and came up with 23 digs. Sarah Pfund '14 recorded 15 assists and 15 digs. Cecelie Pikus '13 posted 14 digs, 11 assists and four aces. Anna Brown '15 led the defense with a season-high 36 digs.

The Bantams (9-2, 3-0) take on Williams College in another NESCAC match at Hamilton on Saturday, Oct. 1. The Continentals play NESCAC matches against Wesleyan University and Williams on Saturday.