Women's volleyball falls in NESCAC action
---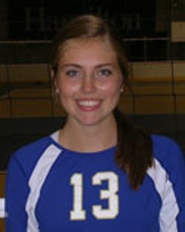 Hamilton College lost in four sets against Bowdoin College in a New England Small College Athletic Conference match played at Tufts University's Cousens Gymnasium on Oct. 15.

Hamilton (9-10 overall, 1-6 NESCAC) plays Tufts on Saturday, Oct. 16. Bowdoin (14-7, 7-2) rallied to win the first set, 25-22, and breezed to a 25-18 victory in the second. The Continentals rebounded for an easy 25-18 win in the third set, but the Polar Bears closed out the match by a 25-15 count in the fourth.

Brenna Corrigan '14 hammered a team-high nine kills and added eight digs for Hamilton. Meredith Nuber '14 pounded eight kills and posted three blocks. Megan McCareins '14 was credited with 18 digs, and Rachel Irizarry '12 had 16. Sarah Pfund '14 passed out 15 assists, and Cecelie Pikus '13 chipped in 11 assists and nine digs.

Bowdoin scored the first point of the opening set, but the Continentals sprinted ahead to a nine-point advantage at 11-2. The Polar Bears slowly made their way back into the set. Bowdoin tied the score at 17, 18, 19 and 20 before the Polar Bears grabbed the lead for good at 21-20. The set had six ties and just two lead changes.

Bowdoin controlled the second set as Hamilton never held a lead. The only tie score came at 1-1, and the Polar Bears' largest lead was 12 on several occasions.

The Continentals did not succumb easily as they did not allow Bowdoin to hold a single lead in the third set. There were no ties and Hamilton's largest lead was nine as they forced a fourth set.

The pendulum swung back in Bowdoin's favor in the fourth set as the Polar Bears took a 2-1 lead and never trailed again. Bowdoin built a 16-7 lead, pushed it to 18-8 and eventually won the set by 10 points.