Women's volleyball falls to Amherst
---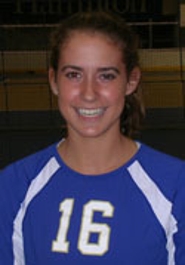 Amherst College dropped the first set, but roared back to win the next three against Hamilton College in a New England Small College Athletic Conference match at Hamilton's Margaret Bundy Scott Field House on Oct. 30.

Hamilton (13-14 overall, 1-9 NESCAC) finished the season with the program's most wins since 1999, when the Continentals went 17-14. Amherst (23-2, 9-1) is the No. 1 seed and will host the 2010 NESCAC tournament next weekend. The set scores were 26-28, 25-17, 25-10 and 25-7.

Meredith Nuber '14 had a team-high 14 kills, and Brenna Corrigan '14 recorded 11 kills and 25 digs. Megan McCareins '14 pounded 11 kills and added a team-high 28 digs.

Sarah Pfund '14 passed out 24 assists and had 14 digs, and Cecelie Pikus '13 had 12 assists. Rachel Irizarry '12 chipped in 15 digs, and Ally Martella '13 led the defense at the net with two blocks.