Women's volleyball falls to SUNY Institute of Technology
---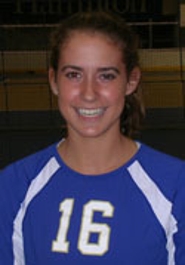 Hamilton College lost a tough, four-set non-conference match against SUNY Institute of Technology at Hamilton's Scott Field House on Oct. 12.

Hamilton (9-9 overall) won the first set 25-21 against the Wildcats. The Continentals fought hard the last three sets, but SUNYIT came out on top, 25-16, 25-22 and 25-18. The Wildcats (14-7) won their sixth straight match. SUNYIT also defeated the Continentals in five sets at home back on Sept. 14.

Megan McCareins '14 hammered a team-high 16 kills and had 16 digs for Hamilton. Brenna Corrigan '14 chipped in nine kills and 14 digs. Meredith Nuber '14 recorded six kills and three blocks, and Ally Martella '13 added seven kills and four blocks.

Rachel Irizarry '12 helped pace the defense with 25 digs and served one ace. Sarah Pfund '14 passed out 12 assists and pounded three aces, and Cecelie Pikus '13 was credited with a team-high 22 assists.

The Continentals won a tight first set. The score was tied at 19-19 when Hamilton scored the next three points to take control. On set point, McCareins bumped a serve reception back over the net to the Wildcats, but they let the ball drop.

SUNYIT scored the first six points in the second set and never trailed. The Wildcats led for most of the third set, but the Continentals closed to within 23-22, and threatened to rally past SUNYIT. The Wildcats came up with the final two points, including a kill to clinch the set.

SUNYIT jumped out to another fast start in the deciding set, and Hamilton finally called timeout when the score was 9-4. The Continentals never recovered, as a kill by the Wildcats ended the match at 25-18.

The Continentals play two New England Small College Athletic Conference matches at Tufts University on Friday and Saturday, Oct. 15 and 16. Hamilton takes on Bowdoin College Friday at 8 p.m., and Tufts on Saturday at 1:30 p.m.