Women's volleyball honored for academic excellence
---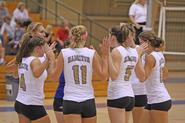 The Hamilton College women's volleyball program has been honored by the American Volleyball Coaches Association with the AVCA Team Academic Award for 2008-09.
A 3.30 cumulative team grade point average on a 4.0 scale, or a 4.10 GPA on a 5.0 scale, needs to be maintained at the close of the school year for a program to be eligible for the award. The award was initiated during the 1992-93 academic year.
A total of 409 men's and women's college and boys' and girls' high school teams earned the award this past season. Hamilton was one of 77 NCAA Division III programs recognized. Head coach Erin Reding is entering her second year with the team.