Women's volleyball loses two NESCAC matches
---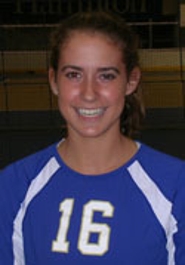 Hamilton College lost a pair of NESCAC matches at Williams College's Chandler Gym on Oct. 8.

Hamilton (9-9 overall, 1-7 NESCAC) had a two-set lead against Colby College in the morning. But the Mules rallied to win the final three sets. Conference leader Bowdoin College defeated the Continentals in four sets in the afternoon.

Colby (7-8, 2-4) won by scores of 20-25, 21-25, 25-16, 25-20 and 16-14. Meredith Nuber '14 paced Hamilton with nine kills and five blocks. Amanda Cohen '13 hammered eight kills and Brenna Corrigan '14 smashed seven.

Ally Martella '13 posted seven kills and four blocks, and Megan McCareins '14 recorded seven kills and 14 digs. Sarah Pfund '14 was credited with 17 assists and 15 digs, and Cecelie Pikus '13 added 13 assists and a team-high three aces. Anna Brown '15 led the defense with 22 digs.

Bowdoin (15-1, 6-0) won by scores of 25-18, 25-20, 23-25 and 25-13. McCareins boasted team highs of 11 kills and 16 digs. Nuber chipped in five kills and three blocks, and Ava Kelley '15 smacked five kills.

Pikus passed out 20 assists and Corrigan served four aces. Rachel Irizarry '12 and Brown ended up with 13 and 11 digs, respectively. Martella led the defense at the net with four blocks.

The Continentals host Morrisville State College in a non-conference match on Tuesday, Oct. 11.