Women's volleyball opens Classic with two wins
---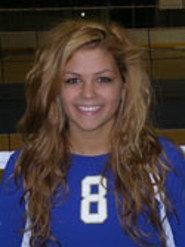 Hamilton College won the first two matches of its 2011 Continental Classic at Hamilton's Margaret Bundy Scott Field House on Oct. 21.

The Continentals (15-10 overall) extended their win streak to five straight matches with a three-set sweep of SUNY Cobleskill in the afternoon, and a four-set victory against Trinity College in the evening. Hamilton's 15 wins this year are the most in a season since 1999.

Against Cobleskill, the set scores were 25-14, 25-10 and 25-12. The Continentals' team hitting percentage was .359. The Fighting Tigers had just 14 kills and 18 errors in 77 attempts.

Meredith Nuber '14 hit .625 with 11 kills and one error in 16 attempts. Megan McCareins '14 chipped in nine kills without an error. Sarah Pfund '14 was credited with 16 assists, and Cecelie Pikus '13 passed out 13 assists to go with seven digs.

Ally Martella '13 posted four aces and four blocks, and Anna Brown '15 recorded three aces and seven digs. Erin Casey '15 helped lead the defense at the net with three blocks.

Cobleskill (8-19) was paced by Elizabeth Stap '14 with five kills. Casey Holbert '15 had eight assists, and Kady Porterfield '15 added two aces and eight digs. Brooke Burke '13 boasted a team-high 11 digs and Kim Cordova '15 had 10.

Hamilton defeated Trinity for the first time since 1993. The Bantams had won the last 16 matches between the programs, including a five-set thriller at Scott Field House on Sept. 30. The set scores this time around were 18-25, 25-21, 25-16 and 25-22. The Continentals trailed 15-8 at one point in the fourth set before they rallied to win the match.

McCareins led Hamilton with 12 kills, two aces and 20 digs. Ava Kelley '15 chipped in nine kills, Martella hammered eight and Nuber finished with seven. Pikus handed out 16 assists, and Pfund had 15 to go with 18 digs. Pikus moved into fifth place in program history with 1,363 assists.

Brown led the defense with 28 digs, and Rachel Irizarry '12 added 16. Irizarry is tied for fifth on the team's career list with 1,012 digs. At the net, Casey led the way with four blocks, and Martella and Nuber had three apiece.

Trinity (14-7) lost for the fourth time in its last five matches. Hannah Brickley '14 led all players with 15 kills, and Danielle Isaman '13 pounded 12. Jennifer Low '12 was credited with 32 assists and 12 digs. Sarah Blagden '12 topped the Bantams with four aces and 30 digs.

Alexandra Pell '12 helped lead the defense with 18 digs, Brickley added 17 and Isaman ended up with 16. Courtney Chaloff '12 had three blocks.

The Continentals finish the tournament with matches against Keuka College and Massachusetts College of Liberal Arts on Saturday, Oct. 22.