Women's volleyball opens Continental Classic with two wins
---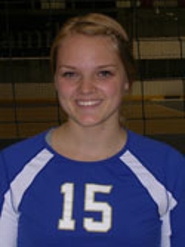 Meredith Nuber '14 helped lead Hamilton College to a pair of wins on the first day of the Continental Classic at Hamilton's Margaret Bundy Scott Field House on Oct. 22.

The Continentals (11-11 overall) reached 11 victories for the first time since 1999, when Hamilton went 17-14. The Continentals edged Keuka College in a thrilling five-set match (22-25, 25-19, 25-21, 23-25, 15-6), and breezed past SUNY Cobleskill in three sets (25-5, 25-17, 25-14).

Against Keuka (15-7), Nuber smashed a season-high 20 kills, and tied a season high with seven blocks. Megan McCareins '14 chipped in a double-double with 12 kills and 13 digs. Brenna Corrigan '14 posted 10 kills, 16 digs and two aces. Ally Martella '13 pounded eight kills.

Sarah Pfund '14 was credited with a season-high 29 assists, and added 17 digs and two aces. Cecelie Pikus '13 passed out 21 assists, and Rachel Irizarry '12 recorded a match-high 26 digs and served two aces.

The score was tied at 17-17 in the first set when the Storm scored the next three points to take control. In the second set, Keuka led 13-9, but Hamilton scored nine of the next 12 points for an 18-16 advantage. Nuber closed out the set with a kill.

The Continentals led for most of the third set. The last tie score was 12-12, and a blocking error by one of the Storm players handed Hamilton the set. The Continentals seemed ready to end the match in the fourth set as Hamilton held a 22-19 lead, but Keuka scored six of the last seven points to force a deciding fifth set.

The final set was never in doubt, as the Continentals jumped out to an 8-2 cushion, and won by nine points. Nuber clinched the match with the last of her 20 kills.

Against Cobleskill (9-17), Nuber clobbered 11 kills, recorded an attack percentage of .625 and blocked four hitting attempts. Corrigan hammered nine kills and had a team-high 11 digs. Irizarry registered eight digs and a team-high four aces. Pikus handed out 14 assists, and Pfund added 10. McCareins helped the defense with nine digs, and Martella chipped in four blocks.

This match wasn't nearly as dramatic as Hamilton's first of the evening. The Continentals jumped out to a 12-2 lead in the first set and won by 20. The second set featured at least seven ties -- the last of which was 16-16. The Fighting Tigers managed just one point after that, however.

The third set was tied 10-10 when Hamilton scored three straight points. McCareins' kill was match point as the Continentals won by 11.

Hamilton takes on Clarkson University and Anna Maria College on Saturday, Oct. 23, on the final day of the Continental Classic.