Women's volleyball opens weekend with split
---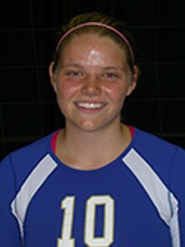 Hamilton College swept Ramapo College of New Jersey in three sets and fell to Gettysburg College in three sets on the first day of the 2012 Days Inn Blue Jay Classic at Elizabethtown College's Thompson Gymnasium on Sept. 21.

Hamilton (4-5 overall) defeated Ramapo by scores of 25-13, 25-16 and 25-20. Ramapo (7-5) lost its fourth straight match. Gettysburg (9-4), which has posted seven victories in a row, swept the Continentals by scores of 25-17, 25-22 and 25-20.

Against Ramapo, everyone played and all the first-year players started the third set. Blaire Frett '16 smashed 12 kills and added two blocks. Brenna Corrigan '14 chipped in five kills and 10 digs, and Amanda Cohen '13 posted five kills.

Anna Brown '15 paced Hamilton with 16 digs and served two aces, and Emily Rosen '15 recorded 11 digs. Sarah Pfund '14 and Emma Lonadier '15 were credited with 15 and 14 digs, respectively. Ally Martella '13 finished with two aces and two blocks. Courtney Somerville '16 and Erin Casey '15 led the defense at the net with three blocks apiece, and Ianthe Lekometros '16 had two.

Against Gettysburg, Corrigan boasted a double-double with 15 kills and 11 digs, and served a pair of aces. Lonadier ended up with five kills and 19 assists, and Cohen smacked four kills.

On defense, Rosen had 12 digs and Brown added 11. Martella picked up two aces and two blocks, and Frett finished with two blocks. Pfund passed out nine assists.

The Continentals take on Elizabethtown at 11 a.m. on Saturday, Sept. 22, and play York College (Pa.) after the conclusion of the first match.