Women's volleyball overwhelms two Vermont opponents
---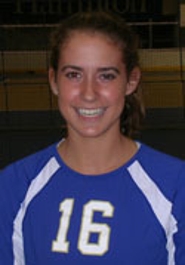 Hamilton College won a pair of non-conference matches in straight sets at Green Mountain College on Sept. 25.
Hamilton (6-6 overall) defeated Green Mountain in the Continentals' first match of the day, 25-16, 25-14, 25-12. Hamilton also swept GMC (4-7) at home back on Sept. 4. The Continentals had an even easier time with Lyndon State (25-7, 25-14, 25-6) in the final match of the afternoon.
Hamilton's attack percentage was .395 against Green Mountain. Megan McCareins '14 hammered a team-high 11 kills and four aces. Brenna Corrigan '14 chipped in nine kills and Meredith Nuber '14 added six kills and nine digs. Cecelie Pikus '13 was credited with 21 assists. Ally Martella '13 posted five kills without an attack error and led the defense at the net with two solo blocks.
The Continentals were even better against Lyndon State (1-6) as they recorded an attack percentage of .488 and served an incredible 27 aces. McCareins again led the way with six kills and six digs. Nuber smacked six kills without an error and had the only block, and Brenna Corrigan '14 also had six kills. Rachel Irizarry '12 tallied a career-high 10 aces. Pikus passed out 14 assists and registered a career-best seven aces.
Hamilton travels to Utica College for another non-conference match on Tuesday, Sept. 28.