Women's volleyball player honored by NESCAC
---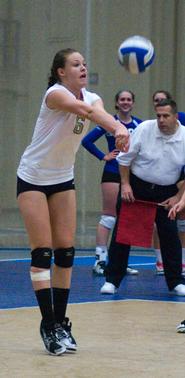 Hamilton College's Anna Brown '15 (Colorado Springs, Colo./Cheyenne Mountain HS) was selected the NESCAC women's volleyball player of the week on Oct. 24.

Brown was named to the 2011 Continental Classic all-tournament team after she averaged 5.00 digs in 14 sets, and led Hamilton to a 4-0 record and the tournament title on Oct. 21 and 22. She added six kills, five assists and four service aces in the four matches.

Brown helped the Continentals to their first victory against Trinity College since 1993 with 28 digs in a 3-1 triumph on Friday. Her dig total was the most by a Hamilton player in a four-set match in 2011.

Brown is ranked sixth in the NESCAC with 4.34 digs per set. She is third on the team with 28 aces.

The Continentals (17-10 overall) have won their most matches in a season since 1999, when the team finished 17-14. Hamilton aims for its eighth straight victory on Friday, Oct. 28, when the Continentals take on Middlebury College at Amherst College in NESCAC action.