Women's volleyball rallies for win against Hartwick
---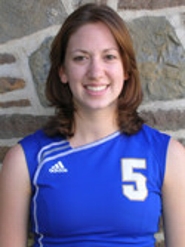 Kristen Selden '09 tied a season high with 17 kills and added four blocks and three aces to help rally Hamilton College to a non-conference win against Hartwick College in five sets at Scott Field House on Oct. 28.
Hamilton (10-19 overall) honored its two seniors -- Selden and Amber O'Connor '09 -- before the match. Selden celebrated by having one of her best performances all season. She posted seven kills with no errors in nine hitting attempts as the Continentals won the fourth set. She then completed the comeback as she spiked a return at the net for match point in the fifth set.
Selden is now fourth on Hamilton's career kills list with 841. O'Connor helped lead the defense with 28 digs. O'Connor, the New England Small College Athletic Conference leader in digs per set, broke her own school record for digs in a season with 554. She had 535 in 2007.
Rachel Irizarry '12 pounded a season-high 15 kills and added 13 digs. Kelsey Lawler '11 was credited with a season-high 51 assists. Lawler also served four aces and had 16 digs. Jo Fier '11 recorded a career-best 30 digs and hammered 10 kills. Alex Singh '11 chipped in 13 digs as the Continentals finished with 100.
Hamilton jumped out to a 4-1 lead in the fifth and deciding set, but Hartwick (12-23) roared back to take an 11-7 advantage. The Continentals scored six of the next seven points and took the lead for good at 13-12. Selden ended the match just moments later.
Hamilton trailed early in the first set, but came back to lead 19-17. Singh (nine kills) clinched a 25-23 win for the Continentals with a kill on set point. The second set was the most entertaining. The Hawks led 13-9 early before the Continentals came back to hold a slim 22-21 advantage. Hartwick eventually prevailed, 29-27.
The Hawks seemed to take control of the match midway through the third set after they trailed 17-11. Hartwick scored 12 of the next 14 points for a 23-19 lead and held on for a 25-23 win. Hamilton again grabbed a huge lead in the fourth set at 17-8, and once again the Hawks rallied. Hartwick cut its deficit to two points late, but Singh closed out the Hawks again on set point with a kill for a 25-22 decision. Hartwick has lost four straight matches.
The Continentals defeated the Hawks in four sets on Sept. 13 at the Union College Invitational. Hamilton travels to Colby College in Waterville, Maine, for a NESCAC match against Bates College on Friday, Oct. 31, at 8 p.m.