Women's volleyball splits final two Classic matches
---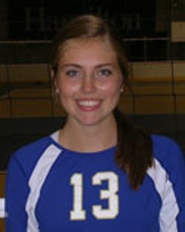 Hamilton College won one match in three sets and lost another in three straight on the second and final day of the Continental Classic at Hamilton's Margaret Bundy Scott Field House on Oct. 23.

Hamilton (12-12 overall) finished second in the tournament with a 3-1 record. Brenna Corrigan '14 was the Continentals' representative on the all-tournament team. Hamilton was swept in three sets by Clarkson University in the morning (25-18, 25-20, 25-22), and breezed past Anna Maria College in the afternoon (25-8, 25-11, 25-12).

Against Anna Maria (8-21), Megan McCareins '14 led the way with 15 kills, three aces and nine digs. Meredith Nuber '14 chipped in 10 kills and three blocks. Corrigan hammered 10 kills, Rachel Irizarry '12 served four aces and Cecelie Pikus '13 was credited with 25 assists.

Clarkson (22-6) participated in the 2009 NCAA championships, and won all four of its matches at Hamilton. The Golden Knights defeated the Continentals in three sets at a tournament at SUNY Potsdam back on Sept. 11.

Corrigan posted five kills and 10 digs. McCareins pounded five kills, and Ally Martella '13 blocked three attack attempts. Pikus passed out seven assists and served two aces. Sarah Pfund '14 also had seven assists.

Clarkson won the first three points and never trailed in the first set. In the second set, the score was tied at least seven times, including 19-19. However, the Golden Knights ran off the next four points and won by five. The score was tied 20-20 in the third set, but Clarkson notched five of the last seven points to clinch the sweep.

Hamilton hosts Hartwick College for another non-conference match on Tuesday, Oct. 26.