Women's volleyball splits pair of matches
---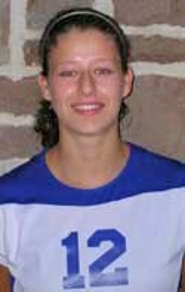 Hamilton College split a pair of non-conference matches at SUNY Institute of Technology in Marcy, N.Y., on Oct. 25.
Hamilton (9-19 overall) hosts Hartwick College for another non-conference match on Tuesday, Oct. 28, at 7 p.m. The Continentals defeated the Hawks in four sets on Sept. 13 in the Union College Invitational.
Alex Singh '11 led Hamilton with 10 kills in a three-set victory against SUNY Cobleskill. Jo Fier '11 added seven kills and 11 digs. Kristen Selden '09 hammered seven kills and Rachel Irizarry '12 served four aces. Kelsey Lawler '11 was credited with 22 assists and 11 digs. Amber O'Connor '09 and Liz Reid '11 led the defense with 18 digs and four blocks, respectively. The set scores were 25-18, 25-11, 25-14.
Fier paced the Continentals with a double-double in kills (10) and digs (16) in a four-set loss against SUNYIT (20-8). Lawler chipped in 28 assists, 11 digs and six aces. O'Connor recorded 29 digs while Irizarry had 11 to go with eight kills. Reid, Singh and Selden tallied seven kills each. The set scores were 25-19, 25-20, 23-25, 25-22. The Wildcats extended their win streak to 11 matches.